I just wanted to take a moment to say thank you and tell you how impressed I am with Shannon.  She has been very helpful and the epitome of professionalism with the resolution of our Safety Ins. issues and replacement of our coverage.
I know she is new to your team and thought you should know just how great she has been.
Thank you and have a nice weekend.
Regards,
A great agency to do business with, very helpful.
Thanks,
My husband and I have a house and our vehicles Insured through You.  I just wanted to say we've been working with Judy. She is Great! Anything we ask of her she gets it done right away. She did everything great.  Judy is excellent.  She's just a great person, great personality and she knows what she's doing. 
First, a belated 'job well done' compliment to Judy. In July, I bought another Jeep. As is the norm, the paperwork is a bit of a pain when buying out of state, and even worse when the salesman doesn't have a clue as to what to do. he insisted he had it all covered. 
Kristina – Thanks for your speedy response and action…We enjoy working with you and your agency.
Thank you very very much Kristina! You're awesome, as is your team & and you've seriously made this so easy for me.
Thank you so much for the amazing promptness! All of you at Downey are the BEST. If you could only see how different you people are from our "old insurance agency," you would be amazed – we are SO HAPPY we migrated to Downey!!! Peace to you, and everyone there!
I am writing you this email in regards to the wonderful experience i had signing up for auto insurance with Elizabeth Saari. She made the process very easy and relaxed making sure that i understood everything and that i could get my car on the road fast. She was very understanding and worked with me.
Great people! The people at Downey Insurance are so incredibly nice, and they feel like a family. Every time I walk in the door, Brenda is always so friendly and greets me so nicely. She calls Charlie for me, and he comes down, smiles from ear to ear. He will always shake my hand, which …
Shari is a perfect blend of professionalism & friendliness! The rates are DRAMATICALLY better than my previous insurance (as well as everyone else from whom I got quotes)!
Great Insurance People! Charlie and the rest of the crew are such great people!
Such nice people! Everyone at Downey is super friendly and they are always there to help! They really are at the top of the ladder! Keep up the good work guys! 
Helpful! Brenda Lando was such a help! She made the process of getting insurance easy.
World Class Insurance Office. The folks at Downey Insurance are the best in the business! Whether you need personal or business insurance, these are the folks to call in Massachusetts, Vermont or New Hampshire. Their dedication to serving their customers is second to none. Call them today and save some money!
Great Insurance Expert – Total recommend them… I had the best experience in my start up company. Charlie and His team were competent enough to setup with the right policies, for both personal and business, exactly what I needed, well priced and well covered.
Outstanding! The folks at Downey Insurance are the absolute best in the business. Great service at a great price!
Been a customer for over 15 years. They handle everything with a very friendly, professional attitude. Downey has been my insurance agency for my business since opening our second office in 1985. Keep it up!
Customer for over 25 years. They also helped my switch my Mother-in-Laws homeowners – to save her money!! Thank you.
Highly recommend – very efficient and professional. Provided the lowest rates with exact coverage I needed! No hassle at all!
Quality! Downey Insurance has always provided me with the best service. They meet all of my needs, and work efficiently to get things done. A friendly staff along with Charlie Downey's personal service is greatly appreciated. I have been with Downey foe over 13 years, will be a life-long customer, and recommend Downey Insurance without …
Easy to work with! Great personnel to work with, very efficient.
Quick and thoughtful service! The agent we worked with (Tonja) was very helpful and kind. We feel we got an honest and competitive premium, and in the end we're happy because the local agency won out. I highly recommend Downey Insurance.
Brenda provides both great expertise and on time results for my insurance needs. Brenda takes personal pride in her work and treats her clients like friends.
Great service, competitive price and friendly people. Charlie and team made it easy.
Alissa, I appreciate the service and assistance I received through Downey Insurance. I was able to get the same auto insurance for less money with an agency which offers additional discounts to educators. Thank you.
Downey Insurance recently helped me with my car Insurance and it reminded me of how much I love working with them. Every experience with Downey is enjoyable and the staff is always very helpful. We have been with Downey for over 30 years & all of my family is there and has been for as…
I like to to come in to the Brattleboro office and pay my bills because I enjoy the presence of your staff. Leslie, Tonja and Melissa. They are so helpful and cheery and always make me laugh.… and I certainly don't get that from my own job or anywhere else I go for that matter…
Many thanks Brenda for representing my daughter Kayla in her successful fight against the subrogation demands made against her by that big (will remain nameless) insurance company! It was a HUGE relief to hear they dropped the claim 
 I'm certain it wouldn't have turned out the way it did without your intervention and the …
Moving from a new state can be difficult–especially when you're not only seeking new insurance, but also registering a car. Alissa, my agent at Downey Insurance was friendly, communicative, and patient with me and my many questions. She walked me through the process, found me a great auto quote, and made my move to MA
I  asked Downey Insurance if they could do anything to find a more affordable way for us to insure our small farm. We needed liability for our operation and anything they could do, would be greatly appreciated. They came up with a beautiful – (if you can call insurance that) Insurance solution for Farming Connections,
On another note, I wanted to let you know how helpful one of your employee's has been the past few weeks. Elis Colon has been exceptional! We have been working together changing our 3 Auto and Homeowner's insurance policies and she has been wonderful and so informational. She saved us quite a bit of money …
Thanks Elis. The service you've (& Charlie & Co.) provided over the years is why we stay with Downey. Happy Thanksgiving.
Thank you Charlie for such personal service. It is rare in today business world to have such friendly personal service. Have a happy holiday.
Just a quick hello and to tell you that you have one of the BEST customer service" person" I have ever had to work with. She has gone way out of her way to help and provide me with answers to all my needs. Home owner insurance and care insurance. I have been a customer …
Just changed my auto insurance to Downey Insurance; renter's policy to come in February. Elizabeth Saari was very helpful with info on scheduling instruments – give this girl a raise!
Your quick response and personal attention to our policies are exactly why we have chosen to use Downey Insurance, and stayed with the company for so long! Please let Charlie know how much we appreciate the business practices at Downey!! Best regards!
Thanks again for such a pleasant experience. I had called 2 other agencies and the woman both had attitudes and were very abrupt and not very nice! It was a pleasure!
Location
Marlboro, MA
190 East Main St.
Marlboro, MA 01752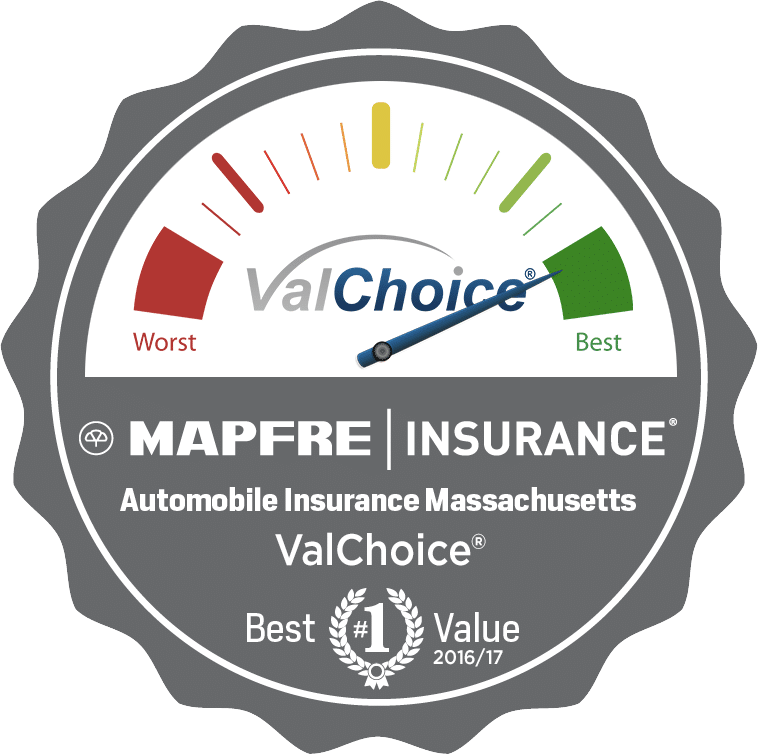 We are proud to partner with MAPFRE Insurance, the #1 home and auto insurer in Massachusetts, named the ValChoice® #1 Best Value for Auto Insurance in Massachusetts!