Massachusetts and New England Life Insurance
At Downey Insurance Agency we go far beyond being standard insurance agents—we aim to be the insurance specialists you trust to protect your most significant asset—your life.
At Downey Insurance Agency we are committed to excellence. From providing you with reliable auto insurance, home and business coverage, we now strive to go above and beyond by protecting your life with dependable life insurance. We know that trying to secure the right life insurance plan can get a bit stressful—and it certainly takes time. From the necessary research to weighing the pros and cons of term life insurance versus whole life, variable and beyond—it's easy to get overwhelmed.
Which is why we're here for you. At Downey Insurance Agency, our agents are well versed in all aspects of life insurance. Our clients will benefit from a team that wants to be more than just your insurance source—we want to be the trusted coverage specialist you rely on to handle all of your life insurance needs.
In addition to helping you navigate your way through one of the most critical policy decisions you will ever have to make in your lifetime; we pledge to secure you a custom life insurance plan you can depend on—and one that is tailored to your personal needs.
Term life insurance, whole life insurance, universal life insurance, variable life insurance, survivorship insurance… the list and combinations seem endless. At Downey Insurance Agency we want to help you determine which insurance policy type is right for you.
Our dedicated team of life insurance professionals understands the appropriate market and regulations and can find an appropriate policy – or mixture of options – that fit your unique needs.
*Variable life insurance offered through our partnership with Integrated Financial Partners, Inc.
Term Life Insurance Basics:
Coverage for a "term" or period of your life.
Lower premiums for higher coverage.
Rates can change after specific terms expire.
No equity – cannot be used as cash value.
Whole Life Insurance Basics:
Exactly like it says – permanent, not for a specific period.
Protection carries with you your whole life.
Can build equity and have cash value.
Higher premiums than term life, but can be more valuable in the long run.
Term and Whole Life Combined:
Build lifelong base of whole live coverage.
Supplement specific times of your life with term insurance.
With so many alternatives it's understandable that you may feel a bit frustrated—so why don't you enjoy living your life to the fullest and leave the insurance part to us! It's all about you, and you are certainly worth insuring with comprehensive life insurance. Our clients can contact us today for a complimentary coverage evaluation—let one of our life insurance specialists get you started on the right path!
Give Downey Insurance Agency a call right now for more information and receive a free Massachusetts life insurance quote!
Location
Marlboro, MA
190 East Main St.
Marlboro, MA 01752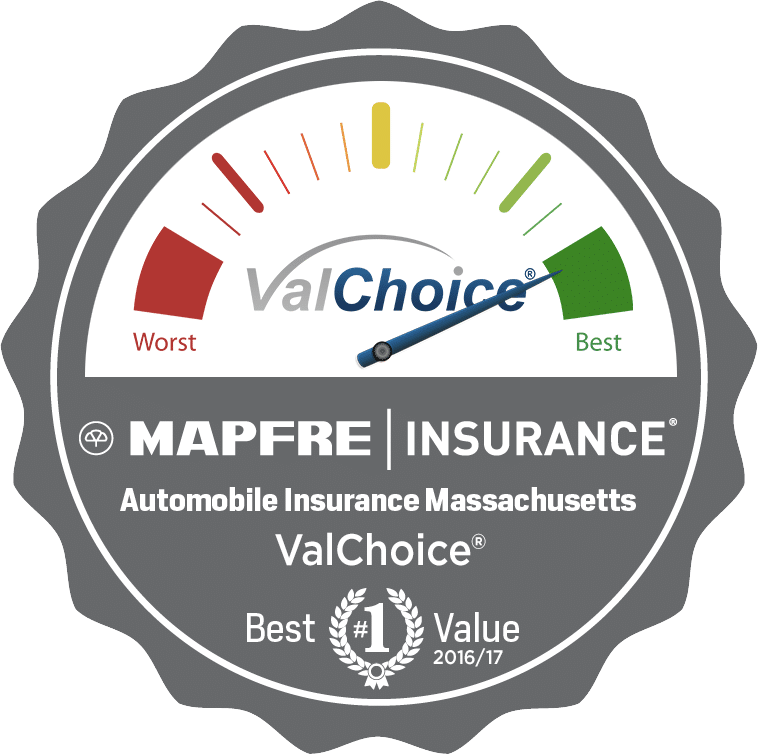 We are proud to partner with MAPFRE Insurance, the #1 home and auto insurer in Massachusetts, named the ValChoice® #1 Best Value for Auto Insurance in Massachusetts!
Business is unpredictable. But buying business insurance doesn't have to be.

As your trusted choice for Massachusetts insurance, we know that customizing a specific Massachusetts business insurance package, to fit your specific operating needs, is no easy feat.
With a variety of coverage options and state laws to abide by, you need someone with superior insurance knowledge and expertise to help you secure the most effective large or small business insurance plan for your Massachusetts, and New England coverage needs!
Generally speaking, the goal of doing business is to maximize profits, while continuing to lessen overall costs. This however requires making strategic plans that account for anticipated expenses as well as outline actions for accurately reinvesting the profits.
Keeping costs at an acceptable level involves securing comprehensive business insurance. At Downey Insurance Agency we have worked hard to build quite a name for ourselves and our superior business insurance strategies.
In our effort to best serve you, we have developed both large and small business insurance solutions that strategically balance your distinct needs, and operating requirements—while also helping to reduce the financial impact of unexpected losses like natural disasters, lawsuits, employee injuries, and more.
As a local New England business owner, how can you determine what you need out of your business insurance? Specific state regulations will determine basic coverage requirements; among the common policies are commercial insurance and workers compensation.
All in all, typical large or small business insurance packages can include a custom combination of these following coverage options:
Business Owners

Policies (BOP)

Worker's Compensation

General Liability Insurance

Errors & Omissions

Commercial Auto

Commercial Property

Group Benefits

Professional Liability
At Downey Insurance Agency, we understand the importance of having budget-friendly – yet complete – coverage in place, no matter how big or small your business enterprise may be. We take pride in the ability to identify the required state policies and suggest the most effective and affordable insurance solutions for your business venture.
Feel free to give us a call; we'd love to provide you with more information regarding commercial insurance, workers compensation and so much more! Contact Downey Insurance Agency right now to get a free coverage review and large or small business insurance quote— let us help you better protect your business venture today!
Or Click thru here to see if Thimble Insurance – is an option for you. https://app.thimble.com/home?brokerid=FKLPF2AF6